Mark Twain Forum Reviews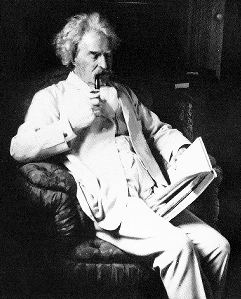 ---

Many of the books reviewed here are available at discounted prices (in association with Amazon.com), and purchases made through this site generate commissions that benefit the Mark Twain Project at the University of California, Berkeley. Just click the Amazon.com icon in the header of each review to see current prices. Titles not listed on this page or in the "Briefly Noted" section may usually be found in the TwainWeb bookstore.
---
Criticism
Biography
Editions
Reference
Multimedia
Children and education
Mark Twain in fiction and popular culture
Other titles of interest
Books and Media not found in this index may have appeared in the "Briefly Noted" postings.
Books to be considered for review may be sent to:
Barbara Schmidt
Review editor, Mark Twain Forum
P. O. Box 136
Kingsland, TX 78639
---
Criticism
Biography
Editions
Reference
Multimedia
Children and education
Mark Twain in fiction and popular culture
Other titles of interest
---
Style guide for reviews
Back to the TwainWeb home page