2015 Hannibal Clemens Conference Gallery
July 23-25, 2015
Page 1 of 11
As my trip to the July 23-25, 2015, Clemens Conference was my third visit to Hannibal in the past four years,
I took fewer photographs than I might ordinarily take on such a trip, and I certainly had no thought of documenting
the entire conference. What follows is thus a random selection of pictures, supplemented with a few pictures from my
earlier visits. Except as otherwise noted, all these photos are mine and were taken on an iPhone 6 during this year's conference.
Kent Rasmussen
(If the images are slow to come up, press your computer's reset key--F5 on PCs.)
---
Located where Hill Street meets the river, this sign welcomes cruise boats stopping at Hannibal.
Passengers disembarking there need walk only three blocks up the street to visit the Mark Twain Boyhood Home,
Becky Thatcher House, John Clemens Justice of the Peace office, Grant's Drug Store (Pilaster House), and
Museum Interpretative Center. The Mark Twain Museum Gallery, Jim's Journey: The Huck Finn Freedom Center,
and other important sites are only a few blocks farther away.

Hannibal viewed from Lover's Leap in 2013. The arrow points to Mark Twain's Boyhood Home.
Until fairly recently a substantial railroad yard occupied the flat area at the lower right side of the picture.
Trains still pass through Hannibal frequently but rarely stop there.
This Google satellite picture of Hannibal marks the positions of the Hannibal-LaGrange University
campus, where the conference was held; Mark Twain's boyhood home; and the road to
the Mark Twain Cave. The river flows from northwest to southeast alongside the town.
Google satellite view of the campus photographed during a winter month.
During the conference, the fields were uniformly lush green.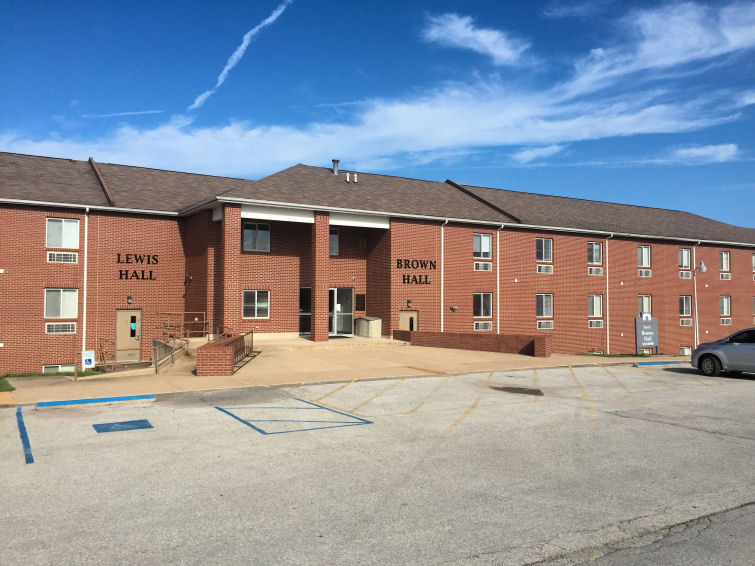 Most conference attendees stayed in comfortable, air-conditioned rooms in Lewis and Brown halls,
a short walk from the cafeteria and a bit longer walk to the Roland Fine Arts Center,
where most conference activities were held. Parking is easy and free everywhere,
and trolleys were available to take conference attendees into town and back.
Gail and Larry Berkove aboard the trolley.
---
Next page of photos
Back to the Mark Twain Forum photo gallery